Hail and Fair Greetings RST Fans!
It has been a long and arduous road these last years taking RST from notes on paper to a playable and epic expansion pack, but I think it's safe to say now, we are in the home stretch at last. Lots happening all at once it seems. This is my final semester at University, next week marks the end with final exams. I'll be graduating with a BA in English Literature and I'm very glad to be closing the book on the academics chapter of my life for awhile.
By now many of you know Ladyflcn is expecting our first child, that's very exciting and she's doing well at 3 months along, handling the sickness and the fatigue with all the grace and good humor she can muster. The baby countdown widget is new here, you can watch the baby grow in the bubble as we countdown to his/her [RELz] and as the fates would have it, it's also a countdown to RST's release!
For those of you who follow Bethesda's Developer Blog, you'll be excited to know my interview posted this morning! GStaff did some surfing here at the Dimension and came up with lots of great questions to ask, I hope you guys enjoy having another peek into my world. It was really an honor just to be nominated, and an even greater honor to be interviewed, I am humbled to be counted among the names of those past interviews. So for those of you who have been sending me messages asking if I'll do the interview the answer is yes, I did it, had a great time, you can enjoy it here -> BethBlog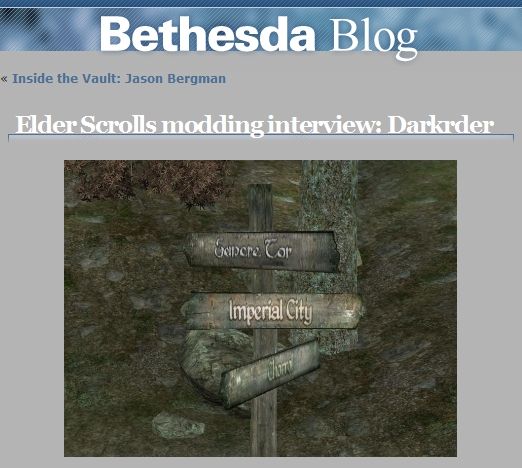 Now that you read the interview, where's the project at, right? You guys can't fool me, that's what you always want to know. 
I had a heck of a time trying to juggle RST and final projects/assignments for school the last week and so up until yesterday RST had stalled briefly. But yesterday I made up for lost time and got a good bit of work done on the latest dungeon crawl. In the next three weeks I plan to finish RST's MQ, then will turn my attention to the side quests and mini games that need to be finished. Last thing on my Agenda before June is to tidy up AI and general dialogue to make sure the non quest NPCs are all using their new dialogue and their basic routines. Lilith and WhoGuru have been the primary Alpha Testers. I have pulled WhoGuru from testing to work on the endgame bits like our last minute dungeon and such. She's also setting the stage for a couple of the side quests I have yet to implement. Once the June deadline passes I will choose my BETA testers from the pool of volunteers and let them get to work play testing while I get the voice actors started. I'm not sure how many characters I will voice myself, two that I know of for sure, but there are some talented folks ready for scripts!
The rest of the summer will be devoted to fixing BETA bugs, patching known conflicts, and polishing the voice work. I will be packaging the voicework separately I think to save download space for those who would prefer a voiceless RST, but I will not be releasing a voiceless version early. November 1, 2010 is slated as the final release, tying into to the baby being born around then. However, IF the work on RST goes smoothly and I finish before then, I will certainly release before then.
A reminder, RST will only be releasing on TESA for the first few months. Because it is a large quest mod, there is no such thing as a bug free release, someone, somewhere is going to find bugs post release. So that I can find and fix these quickly, I want to limit my upload mirrors until the mod is stabilized. Once it's released, please don't beg me to upload it elsewhere, I will in due time, but this seems the most practical way to handle the release of such a large project.
That's it for news for now! Enjoy the interview on Bethblog, and I'll post again in June!
Happy Modding
DarkRider