| | |
| --- | --- |
| Posted by DarkRider on January 1, 2010 at 10:30 PM | |
Hail and Fair Greetings Blades Fans!
I hope everyone has had a wonderful holiday season and I hope you find yourselves ready to embrace a new year with all the challenges and triumphs it will no doubt present each of you.

I had a log entry all prepared to post this morning, but something has transpired today that will pose some challenges for me in the coming weeks, and I regret to say, it will pose some challenges for RST as well. This morning, after a couple hours quest building I went in game to test and found my graphics card is no longer up to the task. The graphics anomalies caused by my failing card make game play impossible, which also makes testing my progressing quest build impossible as well.
So, where does that leave the project?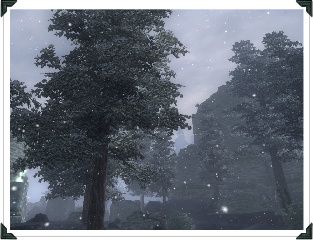 For the time being I am still able to run the CS and quest build, but with no testing ability I will be building blind. It's also probable that the graphics card will continue to degrade, so I don't know how much longer I will have the ability to run the CS at all. I will continue to build on the quest as long as I am able, using WhoGuru where I can to test the progress, and I will continue moving forward with RST as long as my rig holds out. The degrading parts in my rig will need replacing, which can be pricey as my current rig's low profile nature makes replacing parts difficult. It may end up being cheaper to buy a new tower altogether. If my graphics card goes completely and I am no longer able to use the CS, progress on RST will be suspended until I can afford to replace it. As much as I dislike the notion, I have made donations possible here on the Dimension for any benefactors out there who would like to graciously help and donate toward replacing my equipment for the future of RST.Any donations are much appreciated.
Before my graphics card climbed into its coffin this morning, I did have some good things to report on RST as well. The quest build is going well, chapter 3 is at last done technically. There is a gap I discovered in the story, and I'm having to tweak it a bit so it makes sense throughout. Heading into RST's first really good dungeon crawl. It's a short one, but has some challenging enemies and interesting innovations in its design. It also marks the climax of chapter 3 where the story turns going into chapter 4. Chapter 4 is mostly dungeon diving as the player begins to piece together the story one dungeon at a time. I'm looking forward to this chapter immensely. The end of chapter 3 takes progress on the quest build to more than halfway and into the down slope.
This week I hope to get the dungeon sequence finished and into chapter 4. I have moved BETA tester lilith to Alpha/Beta status and she will begin the testing at the start of next week to start tracking down bugs in preparation for release. While I still have a functioning CS I will also export the rest of the quest dialogue for the voice actors.
My focus is to continue moving forward no matter what. I believe that the generosity of RST fans and a little magic money from lady luck will take care of the tech issues so the project can return to full speed ahead. I will post updates frequently as things develop further with my equipment and with the project in general,
Happy Modding!
DarkRider