Hail and Fair Greetings RST Fans!
I thought I would take a minute to post a brief update here in the log and to share some new pictures from my last testing session. I heard there were many anxious voices on BGS crying out for some glimmer of progress news. So, here is your glimmer. Progress on RST had slowed during the website upgrade on TESA, but since that upgrade I have gradually begun to withdraw as my staff is capable of running the daily business of the site without me. Starting today, I have entered what I call a blackout phase which basically means except for a brief checking on messages across the net in the AM, I am offline, and 100% focused on RST.
I took these occasional blackouts early in RST's development to push through long LONG hours in the CS building her many wonderful locations. Because of the stall during the upgrade I felt this was a good time to go offline again and to turn all of my attention and energy toward the goal of completing RST's quest build.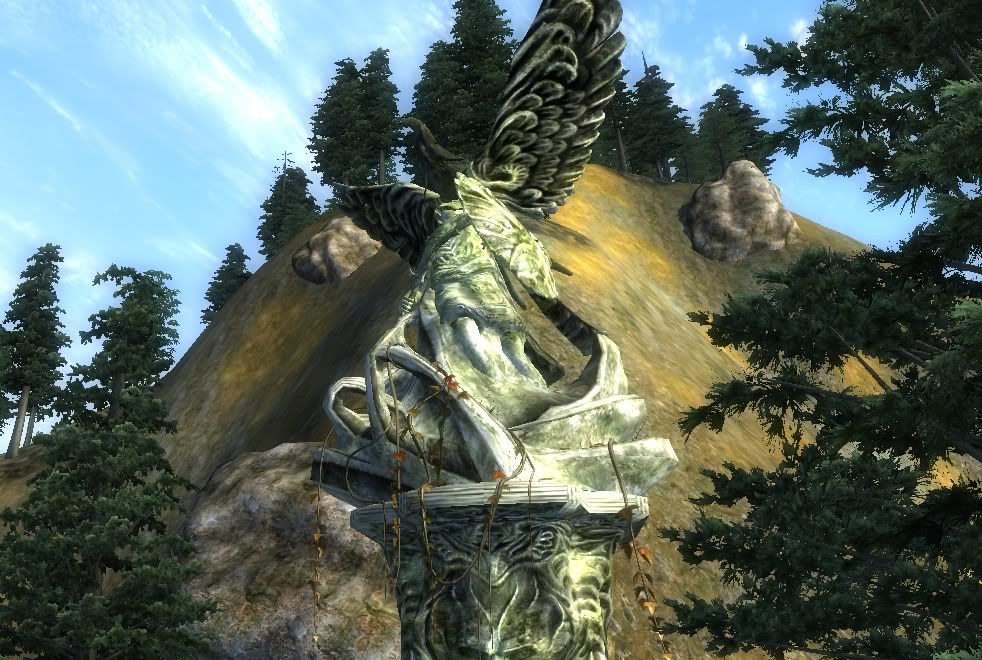 This shot was taken outside of one of my favorite ruins in the vanilla game, Lipsand Tarn. While RST has a host of large, completely new, dungeons, I've also made use of some of these beautiful, but not quest related, dungeons from the vanilla game; adding to them as locations for more minor quest tasks.
I've added some new pics from my dungeon crawl here on the projects page, but don't get too excited, I'm not revealing any secrets just yet!
Now, for more info on progress, I am hesitant to update the progress bar on BGS just yet because I just went into blackout this morning, and only came back to update the log here at WhoGuru's behest. The reason is because I expect progress to radically increase over the next few days so better to wait until I come out of blackout next week and do a proper update with more pics, and increase the progress bar at the end of this period, rather than at the beginning.
The next planned phase for RST, phase 03, is the BETA testing and voice acting phase. Originally it was planned that this phase would begin after the questbuilding. However, due to the bulk of what's left, I decided that would not be the most time efficient way to handle the process. So, as I finish each leg of the quests, I am exporting dialogue and posting it for my cast to begin work on. Several actors have already submitted finished lines for the release. Also, WhoGuru and I are testing the mod as I build it to greatly reduce the number of bugs that will crop up in the next phase of BETA testing.
While I was hopeful for a summer release I'm no longer certain that will be possible. I do know phase 02 will be complete by the end of summer, but I believe there will be loose ends to tie up at that point before I can release her to the public. Those loose ends partly involve finishing the dialogue/mastering and the second BETA testing  phase. The rather large issue, in addition, is that the armor concepts that were unfinished when Rayn left the project an age ago, and remained unfinished when AlienSlof left the project, are still unfinished. This is a blow to release I have been anticipating. The task of completing them has now fallen to Windmill Tilter, who has been modeling for RST since the beginning; but he has quite a bit of work of his own to finish already. If there is an experienced armor modeler willing to finish these armor concepts, please get in touch.
So, I return now to my blackout to build as much as I can in this one week uninterrupted. Check in again next week for news and a proper update on BGS.
Cheers,
DarkRider