Hail and Fair Greetings Blades Fans!
It's well passed time for another update here about the Dimension, so much has happened in the last few months there's so much to catch up on, but so little time to spare, so this will be brief. It seems that every time things get quiet on the RST front some loyal one of you is there to give me a nudge about updating. I'm grateful for your steady watch as it's easy for me to devote all my free time to the project and completely forget to update on progress. So let's start with, yes Blades fans, I'm still here and still making sure and steady progress on RST.
As you all know, the new year started off with a bang when Bethesda announced the release date for Elder Scrolls V: Skyrim! (If you haven't caught the Official trailer, catch it on the homepage here :D) While it was an exciting and drool worthy announcement to be sure, it has caused quite a few modders to reevaluate whether or not current projects will be finished in time to release before Skyrim snatches up most of the community focus. I've known a few folks to have put the brakes on their [WIPz] mods. Never fear though, RST will be completed as planned, and I am feeling pretty confident these days that it will be long before Skyrim's release.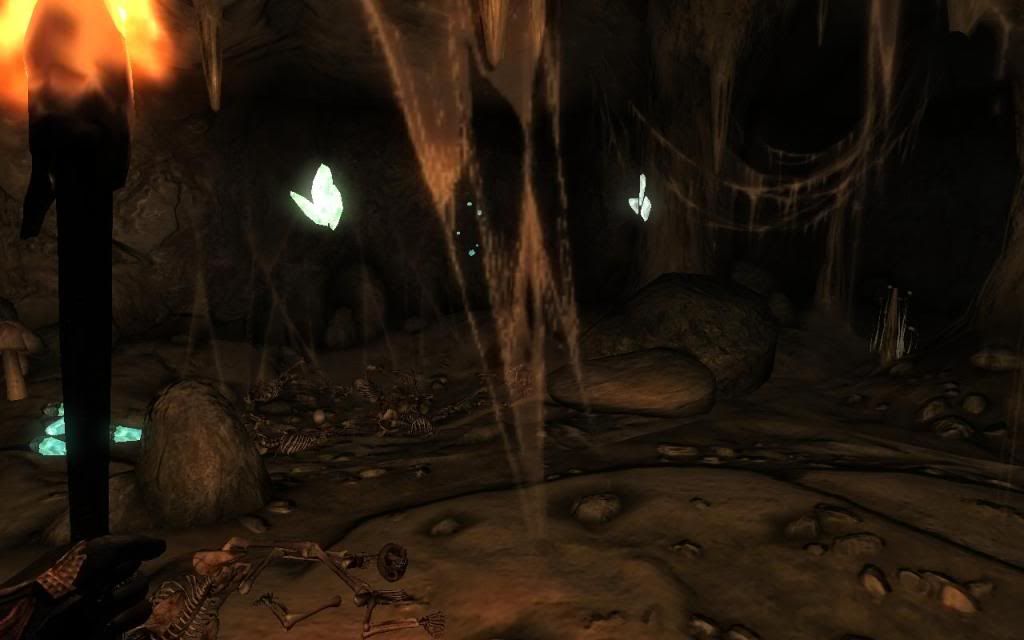 Are those eyes in the dark...?
So where is the project now?
In December, the testing on RST was stalled by a particularly nasty Script/AI bug that stopped testers from making any further progress through RST's main quest. Some testers occupied the dead time testing a couple sidequests, but my work was focused on tracking the bug. After completely reworking the troubled NPC's Script and AI, I finally squashed the bug, though the real cause was never made apparent. Testing began again on version 0.0.6 and so far, it's performed with flying colors. I've made several fixes this week and hope to be releasing 0.0.7 to the testers soon. The current tester reported gameplay hours clock at about 20 and they are about halfway through.
The section of RST we just tested was the most complex and took the most time to test. This next section has fewer NPCs involved, it's mostly dungeon crawling, so the progress should go much faster once we hit 0.0.7. This last version (0.0.6) has been the release quality version for the first half, our focus will be forward now of that point. There are still some issues to be ironed out in the second half, the boss battles in each of the major dungeons are still quite buggy. I will be working on resolving those bugs ahead of testers. This week I am working on improving the second dungeon crawl quest sequence while they test through the first. A few pieces of that sequence were removed ages ago and I've been putting them back in because in testing I've found without those elements the whole sequence is uncharacteristically short for RST.
It is my goal to finish and turn over version 0.0.7 next week, using this week to plow through a to-do list of bugs, tweaks, fixes, and adjustments before the testers can head through to the second dungeon with few errors. There's a lot on this list, since there are some aesthetic changes around Sancre Tor added to it recently, but I'm optimistic. 
Hopefully the next update will be along sooner than this last one. One of you must nudge me after a month at the latest if nothing's been posted. Don't wait four months.
Cheers, and Happy Modding
DarkRider